Ecosystem protection of the Ohrid-Prespa transboundary region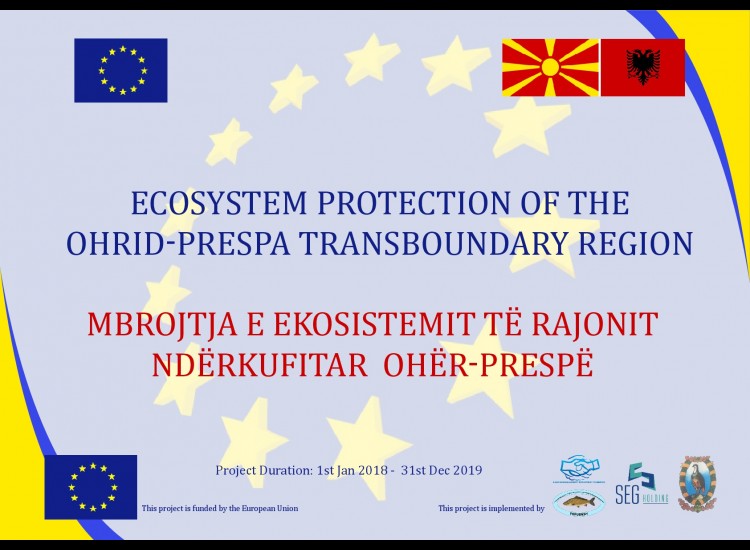 Description
The Project "Ecosystem protection of the Ohrid-Prespa transboundary region"
Financed by: The European Union represented by the Delegation of the European Union to the former Yugoslav Republic of Macedonia.
Cross-border Programme the former Yugoslav Republic of Macedonia – Albania under the Instrument of Pre-accession Assistance (IPA II) allocations for 2014 & 2015  (CfP: EuropeAid/152956/DD/ACT/MK)
website: https://ecopro-mk-al.com/

Publications: http://ecopro-mk-al.com/publications/

http://sq-spis.opendata.arcgis.com/

Prioriteti 3: - Protecting environment, promoting climate change adaptation and mitigation, risk prevention and management
The project is implemented by: 
• Albanian Local Capacity Development Foundation (ALCDF) – Lead applicant
• SEG Holding – Co applicant
• Federation of Fisheries Organizations of Internal Inbound Waters of Albania (FFOIWA) – Co applicant
• Hunting Federation of Macedonia (HFM) – Co applicant
The Project Objectives:
Overall Objective: Contribute to balanced and sustainable socio-economic development of the Ohrid-Prespa transboundary biosphere reserve, through introduction of spatial information and planning system (SPIS) for planning and management of the natural resources and heritage of the target region.
Specific Objective: Develop a system to map the most important ecosystem services of the Ohrid-Prespa transboundary biosphere reserve, and understand their contribution and their utilization for forestry, tourism, fishing and hunting enhancement.
Target area:
Macedonia: Ohrid, Struga, Resen;
Albania: Pogradec, Librazhd, Prrenjas, Pustec;
Target group and beneficiaries:
Members of the FFOIWA and HFM; CSOs for nature protection, tourism promotion, and local agricultural and rural development; SMEs, especially those working in the area of tourism and alternative tourism agriculture and/or rural diversification; Local municipal representatives; and local population from the two countries.
Project Duration:  24 months (1st January 2018 – 31st December 2019)
Budget: 412,464.00 € ;  EU Contribution 350,594.40 € (85%) ;  Implementers contribution 61,869.60 € (15%)
GENERAL INFORMATION ON THE PROJECT
Results: 
1. Developed and implemented transparent and accountable project management system, for effective and efficient delivery of the project results. 
2. Developed and installed integrated environmental monitoring system, to map the existing ecosystem services related to provisioning, supporting and culture, in the target area.
3. Developed scenarios for sustainable management (utilization and preservation) of the existing ecosystem services, with involvement of the local population from the target areas.
4. Increased stakeholders' cooperation and support for preservation, development and restoring of the flora and fauna in the target area.
Activities:
A. Integrated environmental monitoring system: 
Feasibility study for introduction of SPIS for hunting and inbound waters; Implementation of SPIS systems for hunting federation and inbound water association; Trainings on SPIS usage for accessing and utilizing the developed SPIS; Comprehensive studies on the potential and importance of eco-system preservation for fishing and hunting.
B. Defining ecosystem services scenarios:
 Survey on economic activities in natural environment; Comparative analysis on utilization of natural resources by preserving environment; Development of sustainable management and action plans for management of the existing eco-system economic activities in the CBC target area.
C. Beneficiaries' awareness raising: 
Study visits to the management of hunting federation and inbound water associations; Awareness meetings for hunters, fishermen, SME (rural, alternative tourism and craft representatives) for sustainable eco-system management in regards to fishing and hunting, as boosters for rural economy and alternative tourism; Eco-days (one per country) on sustainable eco-system management; Development and dissemination of promotional material; Educative videos for eco-system preservation and service development for hunter and fishermen; Project final conference.